The Power of Involving New Employees in Learning and Development from Day One
September 2, 2021 | by SumTotal Blog | 4 min read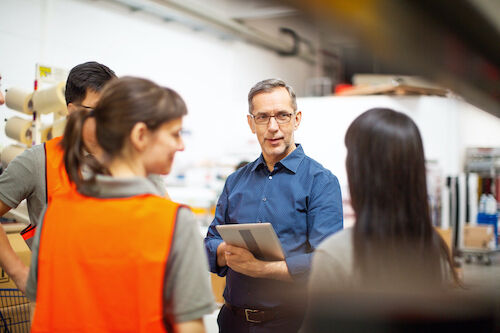 Most onboarding and learning and development (L&D) programs are pretty good at getting new hires up to speed and showing them some valuable resources. But they tend to be siloed and driven by the back-office needs of your organization.
So,how do you get each employee off to a start so effective it ensures their long-term growth and increases their ability to drive success for your organization?
What you don't do is simply bridge the gap between onboarding and L&D programs. Instead, you've got to eradicate the gap. Combine these two separate programs into a single, seamless entity that inspires employee growth and career progression.
According to McKinsey & Company, "Companies that have developed high-impact onboarding processes score better on employee engagementand satisfaction and lose fewer new hires." Your L&D team can play a critical role in new hire onboarding, such as helping people build the skills they need to succeed, making digital learning technology available to new hires, and setting them up with mentors and other new hires.
Start L&D Before the First Day
The ideal time to get employees involved in L&D is before day one on the job. Introduce your learning management system as a part of new hire introductory material so employees can explore your content and begin to plan their learning path. This is much easier to do before joining an organization rather than during the challenging first few weeks in the new position.
Continuing learning and development throughout onboarding is crucial. Besides highlighting opportunities for job-related skill development, you can also motivate employees to get involved in training programs or special projects, such as leadership development programs or technical training.
When new hires receive onboarding tailored to their specific competencies, strengths, and skills, they tend to be more engaged, informed, and confident. Their learning and development journey is already underway.
Support a Strong L&D Experience
Onboarding and L&D processes should be transparent to your new hires. By using a modern LMS that offers each employee a personalized dashboard, they'll be able to access helpful information and interact with coworkers and content. This level of transparency and visibility also shows employees that their integration into the team is part of a well-defined game plan. By tracking all of their onboarding activities in one place, new team members can better prepare for future tasks.
Make it clear to each new employee that through their dashboard, they will be able to:
Choose from a wide array of targeted learning opportunities
Get essential job skills training and compliance certifications
Consume learning on-demand through video, audio, and text formats where and when they need it
Use career learning paths to guide their long-term development
Contribute to a learning culture through built-in communities
Making learning accessible through any device increases employee engagement and productivity and ensures they have a seamless connection to courses and content as they work. Through gamification features such as badges, levels, points, and leaderboards, you can reward employees' learning habits and increase employee engagement.

Personalize the Onboarding and L&D Experience
When it comes to onboarding, learning, and coaching, one size doesn't fit all. Applying the same onboarding process to everyone is a common error in onboarding. Many organizations tend to be too rigid when selecting which employees and activities to focus their onboarding on. Offering as many L&D options as possible from the first day to all new hires will ensure employees can choose what works best for them.
Another part of your L&D efforts should be to provide coaching and guidance for new hires. Have regular check-ins with employees to gather feedback and check on their progress. Employees progress far quicker by beginning a comprehensive L&D program from day one than those without a supportive environment to help them thrive.
Promote a Culture of Learning
Even the best-designed programs are likely to fail without employee buy-in. Make the purpose of your organization's learning and development efforts apparent, and focus on the "why." Emphasize how new hires will benefit from learning and development and why it is essential for their career growth.
Be sure to set and measure project goals, outcomes, or results. As with all communication, team members must understand the parameters you're using to measure their success and monitor their progress. Ensure managers give regular 1:1 feedback to employees and invite them to ask questions and provide their input.
In addition to improving organizational outcomes, a well-designed L&D program shows employees and potential new hires that a company cares about their professional development.
You are no longer putting each new employee through separate onboarding and L&D protocols. You are introducing them to a learning and development culture that places them and their success squarely in the middle.