One Platform, Your Way: Meet SumTotal App Marketplace
May 26, 2020 | by John Frederick | 4 min read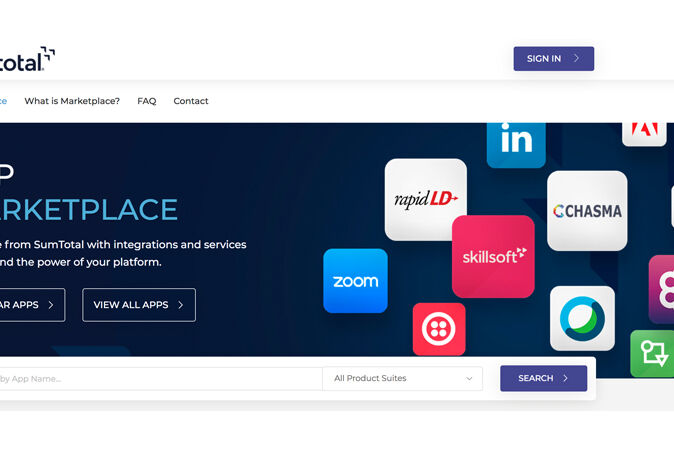 As CEO for SumTotal, it is my privilege and honor to talk with our SumTotal customers every day to hear what's working well for them and to learn about the challenges they face. One message I heard loud and clear was their urgent need for a single unified talent development ecosystem to help meet the specific personalized needs of their organizations. Today, I'm proud and delighted to announce our response to the needs our customers have shared with me—SumTotal App Marketplace—one platform, your way!
Through the App Marketplace, our customers can confidently explore, research, and purchase the talent development solutions they need that address the unique requirements of their organization. The applications and integrations showcased on the Marketplace come from SumTotal, approved third-party applications vendors, our customers, and their peers as client-based tools.
SumTotal is fully committed to customer advocacy. We see ourselves as your true partner in helping you best meet your unique talent development challenges by addressing more of your needs faster and with meaningful impact.
One result of our conversations with customers was the decision last year that SumTotal would be content-agnostic and solution-agnostic, which helped to lay the groundwork for the App Marketplace. We determined that we would expand our partner ecosystem to help our customers solve their most critical pain points with best-of-breed solutions regardless of whether those solutions are SumTotal-native, partner-built or customer-built. Many in the industry thought creating an open and agnostic platform was quite an ambitious undertaking. The industry lacked a holistic user experience that allows the customer to fully personalize their talent development ecosystem to solve for their unique use case—we were determined to solve this challenge for our customers.
A Customer-Driven, One-Stop Shop
Our App Marketplace is designed with one thing in mind: our customers. The Marketplace is a declaration of our commitment to solving more of our customers' challenges by providing the tools to deliver on their talent strategies. We are addressing the demand they have for personalized solutions to meet their increasingly complex learning and talent development needs. With the App Marketplace, we aim to reduce the complexity, time, and resources they spend on maintaining and integrating enterprise-class solutions without sacrificing the ease-of-use and customization they expect from us.
Our customers sit at the heart of the App Marketplace. Why? Because they are some of the most innovative and regulatory compliant organizations in the market. We want their ideas and insights to drive the dynamics and growth of App Marketplace. Providing them with a one-stop shop to find and easily deploy the latest dashboards, reports, tools, content, and integrations to extend the functionality of their SumTotal platform will give them the edge they need to stay on top of a rapidly changing industry.
We want the App Marketplace to help our customer not only enhance their talent development strategy but further enable them to take their own innovations to market, increasing their brand recognition and creating a new source of revenue for them. We're not stopping there; we're opening up app development to everyone! We're creating a community of builders so that we can all help solve today's toughest talent challenges together.
The App Marketplace also removes any barriers between our customers and our technology partners. Our customers can now tap into the solutions they need to make their talent development ecosystem as rich as possible. Our microservices allow integration of third-party applications that extend SumTotal's core functionality to better meet the unique talent management needs of our global client base.
Meeting the Changing Ways in Which HR Professionals Work
As the talent development market continues to change at a rapid pace, HR organizations like yours need to become ever more agile. We developed SumTotal App Marketplace to help address the drive for agility and greater impact by providing:
A holistic experience You can take advantage of ready-to-use applications and integrations that extend and personalize your SumTotal platform.
A seamless workflow You have access to a curated resource to easily find and connect to the right apps with just a few clicks.
Crowdsourced options You, the customer, can decide which apps get added to the marketplace ensuring that it grows to meet the evolving needs of you and your peers.
Zero IT complexity Although you, the customer, decides which apps are added to the marketplace, we, SumTotal, handle the integration. We create a streamlined experience for you that adds functionality and, most importantly, saves you valuable time.
Our customers told us their needs, we listened, and then we delivered on their requests. The SumTotal App Marketplace fulfills our commitment to solving more of our customers' needs by providing the tools they need to deliver on their talent strategies. We are very excited to share this innovative resource with our customers and with the talent development market as a whole.
John Frederick is CEO of SumTotal