Do more than keep pace. Get rid of manual processes, grow your bottom line and achieve compliance.
The market is led to believe that they either need to fit into a box or go with a fully customized solution. Where other vendors walk away, we deliver deployment flexibility that meets your requirements.
Make Time & Attendance, Scheduling and Absence Management your competitive advantage to optimize productivity with total process automation, maintain compliance, and maximize top- and bottom-line growth. We help organizations of all sizes deploy the right number of people at the right time and place, and at the right cost with Workforce Management. Our Expense Management, Payroll and Benefits solutions take you further with common-sense technology that gets the job done quickly and accurately.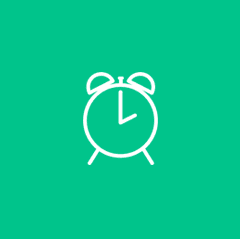 Meet Evolving Regulatory
Requirements with Ease
Minimize risk and avoid fines and litigation with the SumTotal Workforce Management solution to automatically ensure that your employees have the current certifications they need to be both safe and compliant.
Engaging courses that are interesting and available in short bursts, are available at the point of need when and where managers and employees need it. This reduces the risk of employees working who are not up-to-date on their trainings or certifications, ensures that labor laws such as FLSA are understood and implemented, and your whole workforce is current on safety, anti-harassment, and industry-specific training.
Lower Costs with Complete
Process Automation
Get the most from your workforce with full process automation. Entirely streamlined procedures across locations will increase your bottom line by reducing administrative overhead, total cost of ownership, and file errors. We give you the tools to manage your workforce quicker and more efficiently than ever.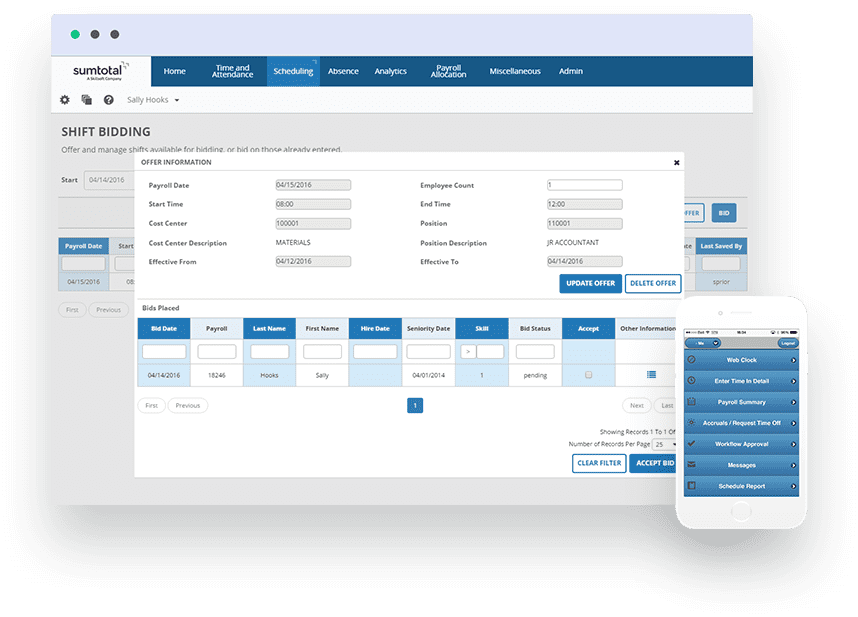 Access Critical Workforce Insights
Anytime, Anywhere
Your workforce isn't just sitting at a desk. They are out in the field and on the go. SumTotal delivers a seamless connective experience that facilitates your modern, flexible workforce with mobile access to real-time information and self-service access to time clocks, accruals, and schedules. SumTotal delivers just-in-time access to your mobile workers to track and monitor schedules, locations, accruals, time, expense and more.
Get a Complete View of Your Workforce with SumTotal Workforce Management
Development opportunities are one of the biggest levers you have to inspire dedication and drive engagement across your workforce – so, why not empower people with tools that connect learning and curated content to critical development measures like goals, skills, competencies and role expectations?
With SumTotal, you can go beyond ensuring compliance and streamlining your processes—you can empower your modern workforce with the tools needed for increased productivity like mobile flexibility, self-service capabilities and visibility into goals and learning initiatives and more, all of which strengthen the bottom line.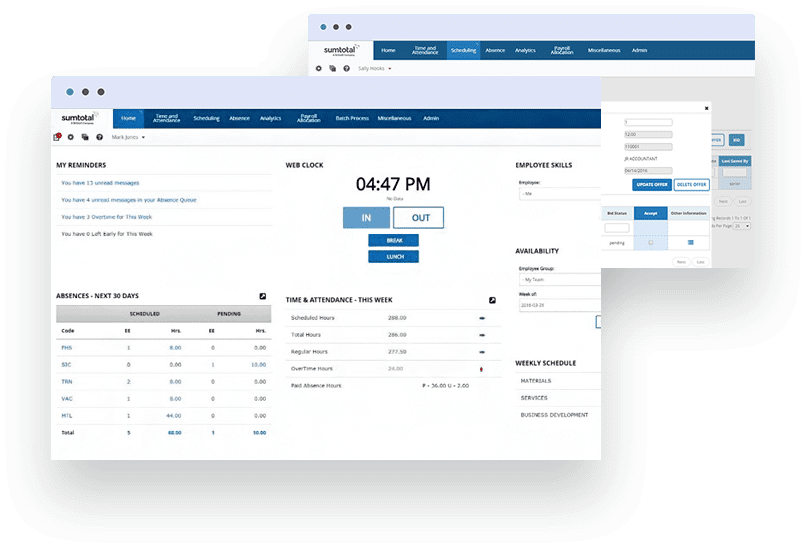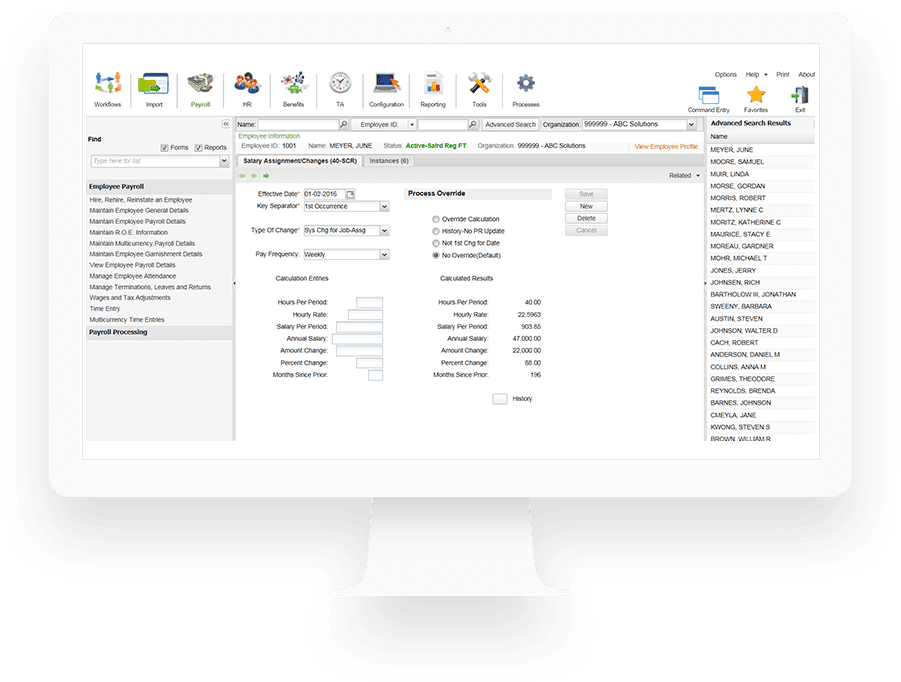 Automate 100% of Your Payroll Processes
Flexibility, speed and accuracy aren't luxuries when it comes to payroll—they're mandatory. That's why our payroll solution features rapid processing speeds and heightened levels of accuracy which results in a payroll that balances every time it is run.
Internally maintained taxation and regulatory reporting help make SumTotal Payroll the most compliant solution in the industry, which allows you to ensure full regulatory compliance. Management analysis tools enable you to make well-informed, strategic and tactical payroll decisions.
Our common sense technology was designed by payroll professionals for unparalleled ease of use. SumTotal Payroll virtually eliminates the "work" from your workflow processes.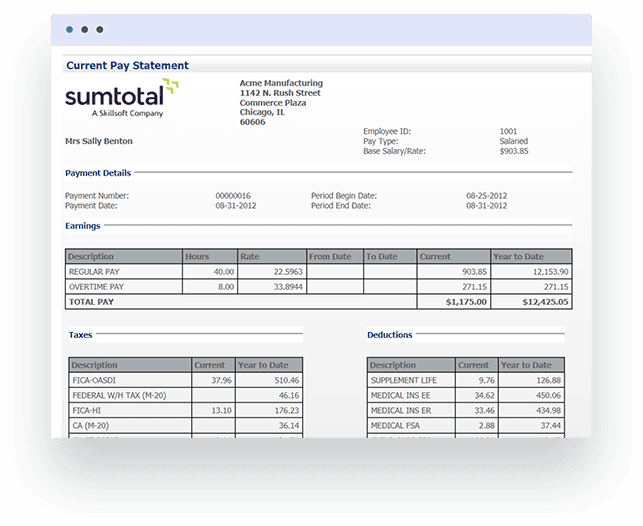 Streamline all Administration
Types with SumTotal Benefits
Whether you are managing a singular benefits program or a complex group of benefit plans for union or salaried employees, SumTotal Benefits has the automated tools and workflows for all types of administration. Strategic benefits-related decisions are effortless when you leverage our sophisticated and intuitive reporting and analysis tools.
Seamlessly Administer Travel and
Expense with SumTotal Expense Management
Business expenses such as Travel and Entertainment (T&E) make up most organizations' top controllable cost, second only to payroll. Expense management is a top priority—especially in the current business environment.
SumTotal Expense Management empowers you to improve compliance, enforce expense policies and increase spending visibility. Manage the entire range of employee expenses and related processes and go further with global capabilities including multiple currencies, languages, complicated taxation requirements and localized policies.