Know and Nurture Your Talent Pipeline
The SumTotal Succession Planning solution makes it possible for organizations to understand skills and competency gaps across their workforce, develop talent pools to be agile in the face of change and dynamically model succession scenarios to drive decision-making and align succession planning management needs to the goals and strategic objectives of the organization.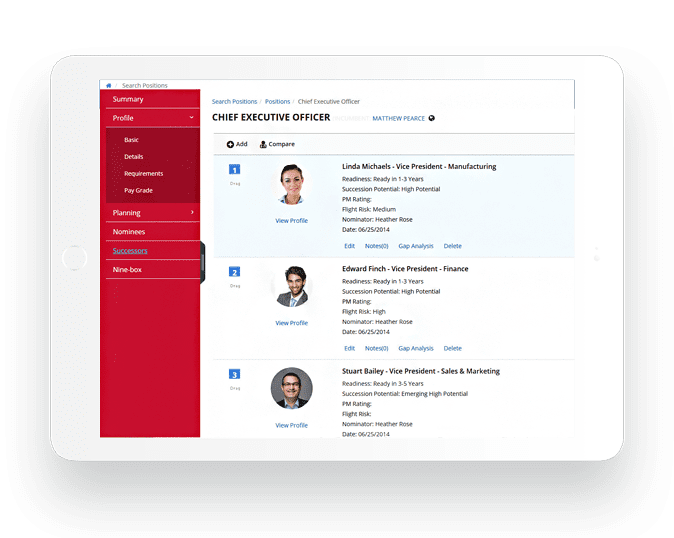 Ensure critical leadership continuity

By looking beyond the highest levels to consider all roles that might be prime for leadership positions.

Evaluate overall talent readiness and identify at-risk positions

Enabling organizations to focus on programs to prepare and develop top performers, model the future state of the organization and anticipate and minimize business risk.

Make it easy for managers to identify top talent

By using Talent Explorer to identify employee competencies, skills, certifications and experiences.

Build the bench strength of your organization

To ensure you have talent agility in the face of vacant positions or changing demands.
Cultivate Tomorrow's Leaders
Recognize talent gaps and prepare employees

For future positions by assigning learning and training plans to talent pools to grow the skills of candidates.

Improve internal career mobility

By recognizing employees and connecting them to opportunities for continuous development.
Create Dynamic talent pools

To group employees by user-defined criteria and ensure growth activities are delivered in context.

Leverage Drag and Drop 9 Box

For visibility into readiness and potential performance, helping to identify top talent and model succession implications.