Solid candid, anonymous 360 feedback
Configurable rater rules ensure the right rates are included and rule of 3 anonymity ensure that feedback from peers, direct reports and internal customers remains anonymous.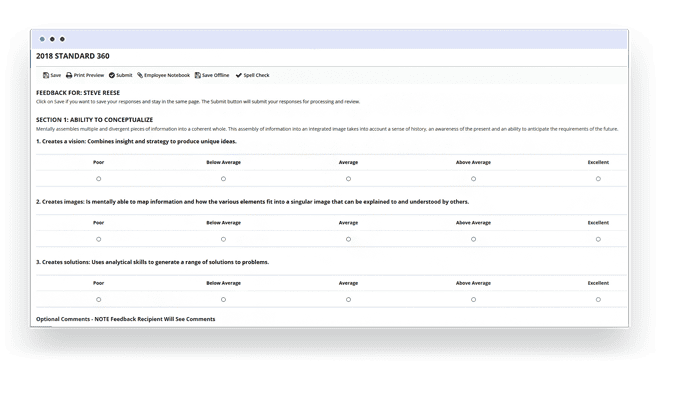 Engage employees and increase development efforts

With multi-source feedback from managers, peers and direct reports.

Encourage feedback from external raters

By simply providing an email address, feedback from an external rater including partners, customers, and vendors can be included in the process.

Inspire growth from your employees

By aggregating current competency feedback and tracking year-over-year progress metrics that will help managers and employees see growth in their competencies and improvement in their job fit.
Support the 360 Degree Feedback Process with Ease
Automate your performance process to efficiently meet your business needs, reduce costs and save your organization time:
Reduce administrative effort

By eliminating manual processes like automating rater nominations and the competency-based multi-source assessment process.

Deliver process consistency, repeatability and scalability across the entire organization

Quickly create feedback forms, reports and collect data that is accessible and consistent