Connect with Tomorrow's Employees Today
SumTotal's Complete Talent Acquisition Solution streamlines the hiring life cycle with tools to deliver an engaging candidate experience and an immersive onboarding process all designed to find the right candidate and ensure they are productive even before day one.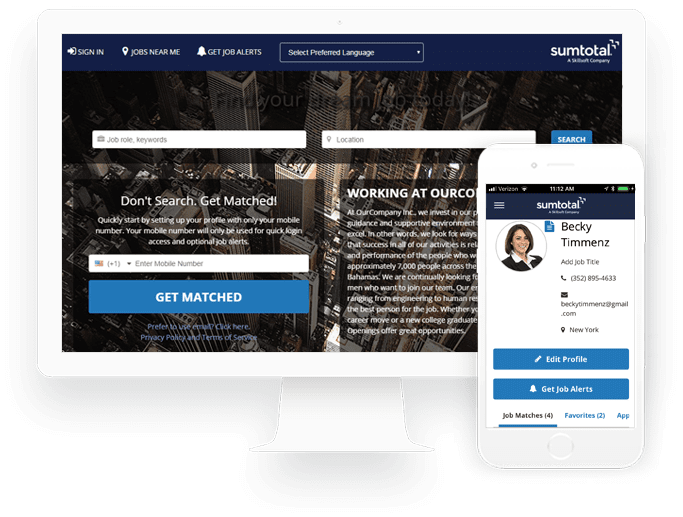 Hire the Right People
SumTotal Recruiting facilitates hiring the right talent with an intuitive and customizable requisition process, screening, interview and application tools, and the ability to search and manage pools of external and internal employee candidates.
Equip, Empower and Engage New Hires for Success
It is no secret that a strong onboarding program significantly reduces first-year turnover and speeds up time to productivity. SumTotal Onboarding makes it easy for you to provide your new hires with the important resources they need to get acclimated with your organization and up-to-speed even before day one.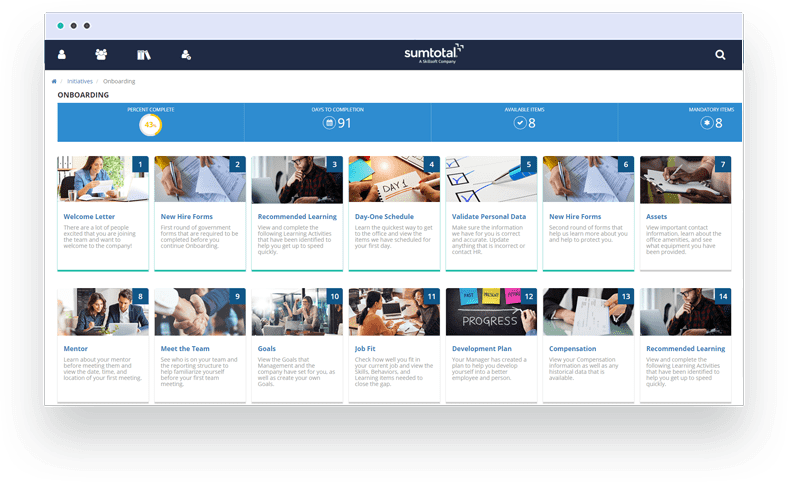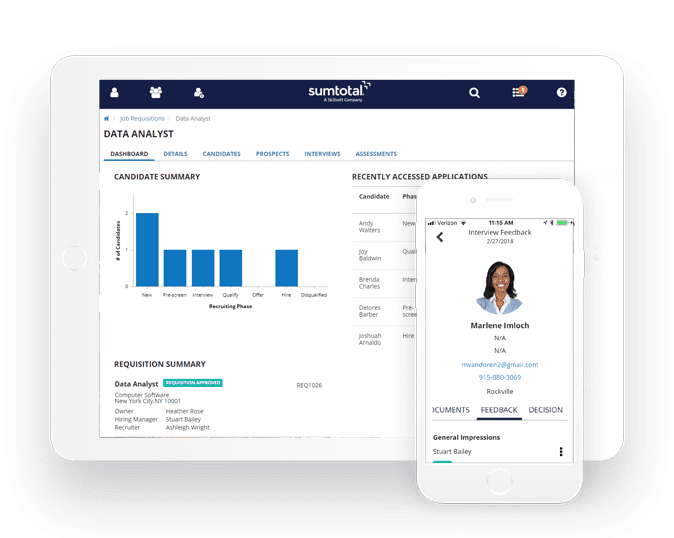 Drive Productivity with a Unified System
Only a Talent Acquisition system that is in tune with the other talent management, development and learning tools will transform the hiring experience to meet the needs and expectations of candidates, recruiters, managers and new hires. SumTotal provides a single system for HR and talent information. Enabling managers and executives to make HR and development decisions with the information they need and giving employees and new hires the tools necessary to grow, develop and be productive.
Simplify Work with Document Automation
Paperwork causes the most congestion for HR professionals. The large volume of documentation required for compliance and HR tasks such as job offer letters, employment contracts and benefits enrollment, makes paperwork an HR department nightmare.
SumTotal has partnered with Hello Sign, a leading e-signature solution provider, to provide e-signature capabilities, including the ability for candidates to e-sign their offer letters from any device. Saving recruiters and hiring managers valuable time and simplifying the recruiting and onboarding process.