SumTotal Compensation Planning
The simple solution to complex compensation needs
Compensation is the largest expense for most organizations, but it is also one of the most flexible tools you have to show appreciation and improve retention. Ensuring each dollar, yen, pound or euro delivers the best return on your investment can be challenging — especially when most compensation decisions are made by managers that perform that function only once a year. And when you consider the number of budgets, compensation types, and approvals that happen with each pay increase cycle, the challenge gets even more complex.

SumTotal® Compensation enables your compensation professionals to manage all of your merit, bonus, and stock processes while giving your front-line managers the flexibility and information they need to mitigate risk and reward your people fairly and accurately.

Our solution eliminates the need for manual processes and extensive paperwork, saving you time and reducing costs. With SumTotal Compensation, you can:
Automate workflows to enable managers and executives to quickly and easily handle exceptions, approvals, and compensation decisions.
Manage the complexity of global compensation and reward policies by supporting the use of multiple plans and currencies in a single organization.
Understand the impact of compensation decisions by modeling different budget scenarios, performing budget analysis and robust reporting to drive decision-making, and meeting your business' objectives.
Easily leverage historical compensation data to guide future compensation and reward decisions.
Ensure fair and accurate compensation by basing merit increases and bonuses on an objective and transparent process that aligns with an employee's performance.
Link Compensation to Achievement with Ease
Pay-for-Performance has become a standard process to link performance to compensation increases for merit, bonuses, and stock options. SumTotal Compensation adds the ability to include the completion of development activities, such as certifications or training activity completion, as an element to effect compensation rules. For example, merit increase levels could be higher for employees who have completed advanced classwork, improving their ability to do their jobs.
Integrated with SumTotal Performance Management, SumTotal's compensation solution goes further, allowing you to link payment rules to key development activities such as certifications, completed training, and more.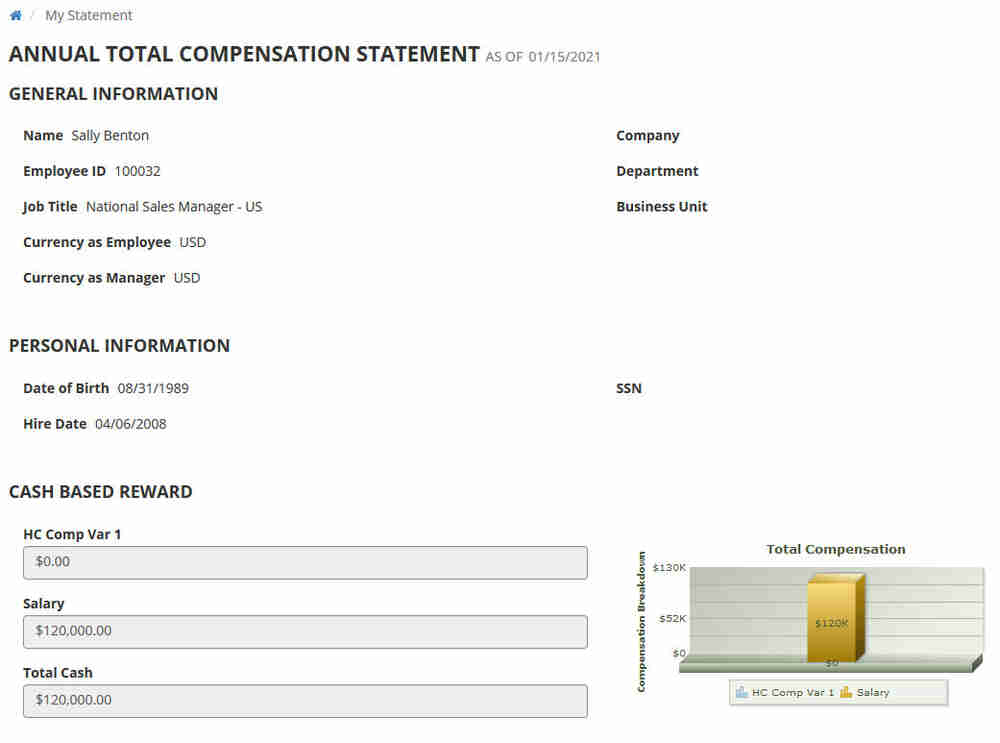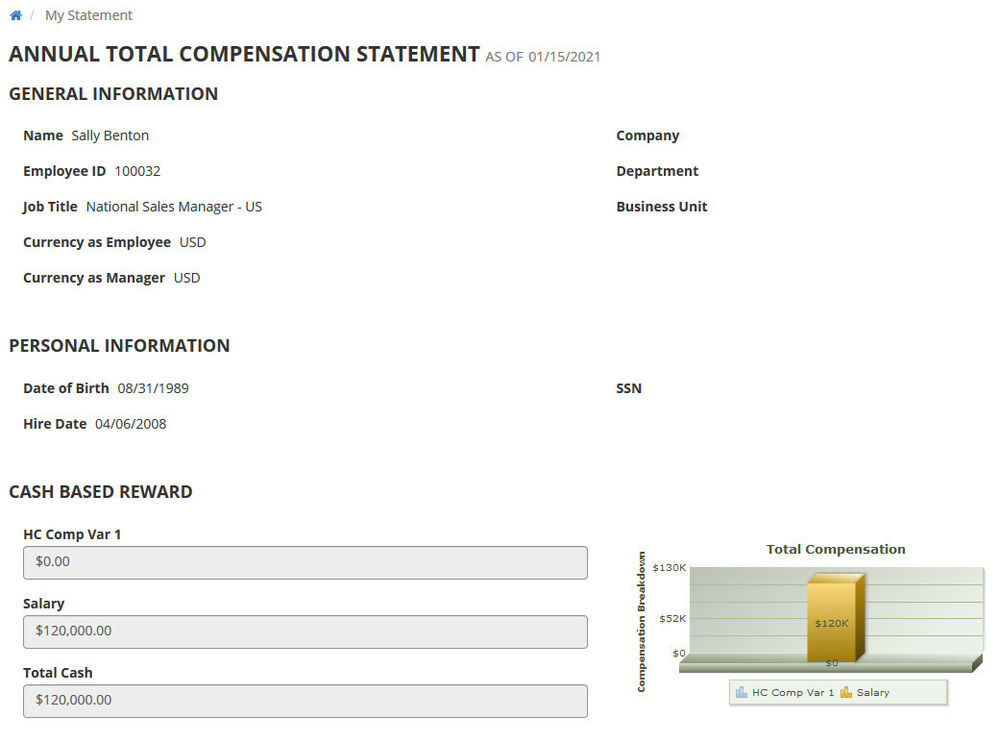 Create a true pay-for-performance culture to engage and retain top talent
According to Birddog HR, 94% of employees would stay longer at a company that invested in helping them develop their careers. Ensure fair and accurate compensation by basing merit increases and bonuses on an objective and transparent process that aligns with an employee's performance. Financial incentives for achievement signal support for individual growth — and assure equitable rewards for employees contributing most to your organization. And that's a win for all.
Custom-Fit Compensation Rules and Budgets
SumTotal Compensation provides top-down and bottom-up budgets for short and long-term compensation. It helps your managers stay within guidelines while offering them the flexibility to shift budget to where it will do the most good. With SumTotal, planning managers can pull data from nearly any status in the entire Talent Suite and use it to make better compensation decisions. The system dynamically adjusts to those decisions and then automatically recalculates budget usage totals to enable them to explore awards options.
Managing Approvals, Streamlined
Of course, with different budgets come different approval processes, and SumTotal Compensation can handle as many as you need. Each plan can follow its own unique approval path and set of rules, so if you have one process for the approval of your hourly staff merit increases and another for your bonus plan for your full-time staff, SumTotal Compensation has you covered.

And that means your managers can spend more time focusing on the total package: supporting, rewarding, and retaining your employees.
Benefits
Support large varieties of compensation plans, approval processes, and rule sets
Increase accuracy and speed of your compensation planning cycles
Integrate more data and flexibility into how your staff makes effective compensation decisions
Reduce approval time for managers and executives
Gain visibility and track your entire compensation status in real-time
Provide flexibility to reward individuals based on performance and development
Feature Highlights
Drive better compensation decisions with salary survey data
Plan in multiple currencies in a single worksheet even in the same group of employees
Compensation and incentives can be tied to the completion of learning programs
Support offline planning with Microsoft Excel export and import, including all rules and controls
Support compensation planning for merit, bonus, and stock
Support for both short- and long-term incentives
Automatically generate compensation/total reward statements
Out-of-the-box pay-for-performance and pay-for-development