Founded in 1984, we focus on elevating companies and moving people forward via custom learning and development solutions Having trained over 12 million business individuals worldwide, we provide customized professional development for our clients to become more effective and leaders in their industries , Utilizing our experience and best practices approach, we design and deliver high quality training, consulting, and support services to fit their needs. Our proprietary professional development and implementation program, Executrain360™ is crafted and managed by our staff of industry leading professionals experienced in corporate education.
By continuing to adapt and evolve with ever changing technology, we strive to deliver exceptional instructions, cutting-edge curriculums, and the most up-to-date facilities.
We evaluate our success, by the success realized by our clients. We are thankful to be a part of a growing list of winning stories!
Quote(s) speaking to the benefit of partnering with SumTotal
SumTotal is unlike any of its kind. Their robust suites of talent, learning, and workforce management give our company the leading edge when presenting our clients with the industries top platform capabilities and solution
Partner Badges: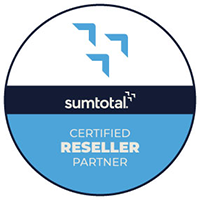 Fantastic course and instructor! Loved all of the shortcuts – will be able to apply everything to be more efficient at work!
ExecuTrain has been our training partner for many successful years. The quality of their training is superior, and their trainers are professional and experts in their fields. The delivered training helps one to broaden their abilities to help perform job tasks.