Since 2003, organizations have trusted Bluewater for learning, talent and human capital solutions that effectively develop their people and drive their business forward. With experts in user experience, content, administration, process, technology, data, reporting and analytics, Bluewater fills the gaps.
Our team can come alongside you at any point in your SumTotal engagement – whether you are looking for pre-implementation consulting, a partner to help you strategize your new implementation, or are a legacy SumTotal customer who needs help keeping their system aligned to their growing business needs.
Get everything you need to begin building and optimizing the system of your dreams today – without adding staff.
Partner Badges: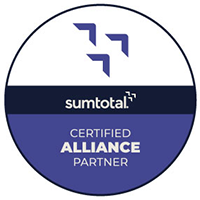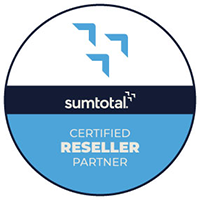 Bluewater Decision Analytics

Do you find your organization is bogged down building tactical reports instead of using data to further strategic business goals? Bluewater's decision analytics will help you uncover actionable insights from your data that move the needle for your organization. We'll show you how to translate your data into dashboards, custom reports & much more to make better, more impactful people decisions.
Bluewater Assurance

Bluewater's Center of Excellence defines 7 crucial service areas that are essential to obtain value from an LMS software.
Are you lacking the time or resources to fully support all of these areas for your SumTotal system? No Problem! Bluewater Assurance is a subscription service that offers two package options: Bluewater Assurance Consulting & Support Services or Bluewater Assurance Support Services. Both packages are designed to help you fill gaps where needed so you can focus on achieving strategic business goals.
Bluewater Assurance gives you ongoing access to the resources & expertise needed to keep your SumTotal platform up & running. Join clients like American Airlines & Regeneron and get more value from your SumTotal system with Bluewater Assurance.
Bluewater Services

Bluewater offers 7 Service Areas that are essential to maximizing the value of your LMS software. Below are just some of the services we provide in each service area:
Analytics: Custom Reports, Bluewater Reporting Pages, Reporting Blueprints, Talent Gap Analysis, & UX Driven Reports
User Experience: Custom User Interface, Custom UX Workflows, Custom Certification Experience, UX as a Service, UX Consulting, & Career Development Plans
Content: Content Blueprint, Content Development, Content as a Service, Competency Development, Performance Review Development, Performance Review Management, Learning Delivery, Goals Development
Administration: Global ADMIN Support, Load Files & Content, Update Settings, ADMIN Your System, Consultative ADMIN, HRIS & Payroll ADMIN, Benefits ADMIN, Content ADMIN, & HRIS Service Center
Technology: Integration Management, Web Services Consulting, Release Management, Tune-Ups
Process: Learning & Talent Management Blueprint, Business Consulting, Business Process Alignment, Performance Program Development, Succession Program Development, Governance Development, Change Management Programs
Data: Data Blueprints, Data Conversion/Migration & Data Clean-Up