With Core Platform, expect
personalization and insight from
your HCM system like never before.
Make it easy for every role in your organization — from individuals, to managers to leaders — to focus on critical development and learning actions to drive productivity and performance, not deciding which application of your HCM system they need to log into. The SumTotal Core Platform takes a holistic approach to optimizing the capabilities of your workforce by unifying information and actions from across the SumTotal Talent Expansion® Suite, even from third-party systems, making access to critical development and people insight more simple, reliable and actionable than you ever thought possible.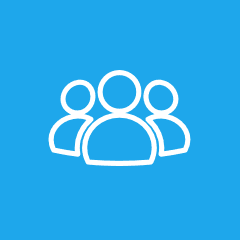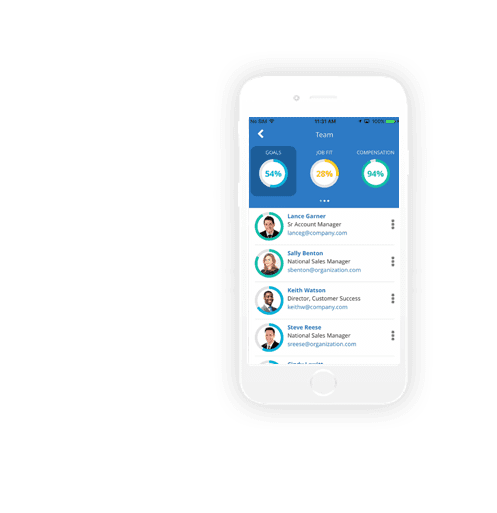 Innovation that Takes
Traditional HCM to New Levels
Today's workforce has new expectations for how they work and the business technology they use, so we're delivering consumer-driven usability that brings the familiarity of personal applications to the workplace. The SumTotal Core Platform makes it possible to deliver an individualized experience, with easily configured dashboards and personalized learning recommendations surfaced throughout the suite based on each user's preferences.
Users are seamlessly connected to meaningful learning and development, when and where they need it, to have the greatest impact on resolving skills gaps, reaching goals, preparing for career mobility and enabling a culture of continuous learning.
Unparalleled Usability to Engage Employees in Development
Configurable role-based dashboards with pre-delivered widgets that draw from across the Talent Expansion® Suite, puts critical development, team and learning insight front and center – with relevant actions only a click away. Every employee can tailor their view with a simple click, to ensure the experience is meaningful in context of their own distinct needs, interests and priorities to enable their self-directed professional journey.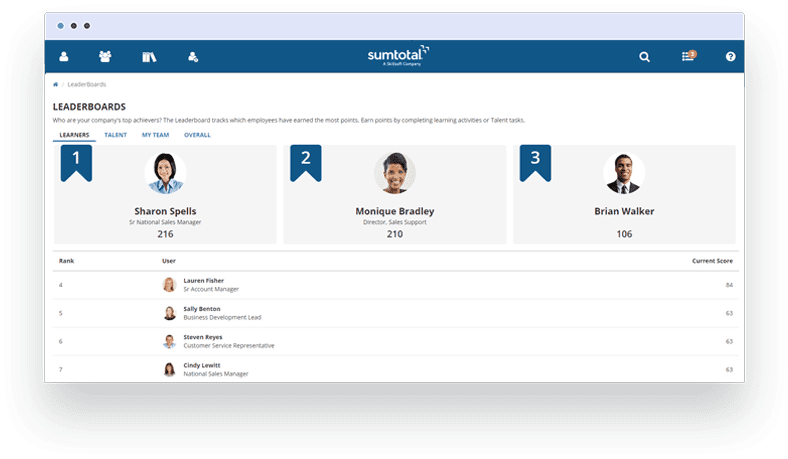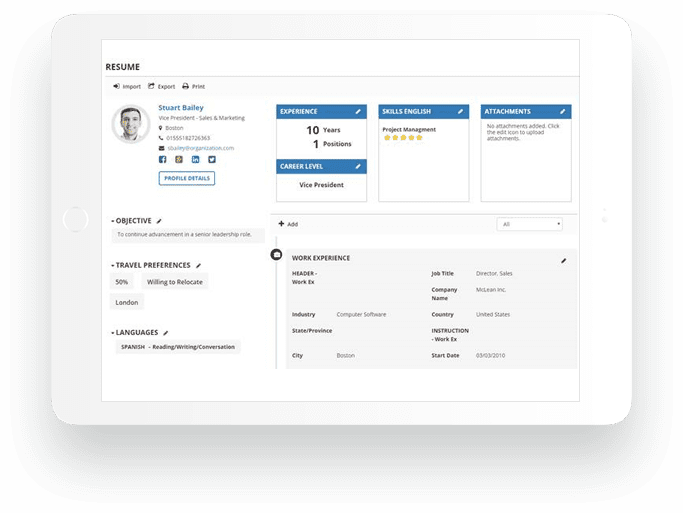 Everything People In One Unified Place
Whether you start from the suite-wide global navigation, a personalized dashboard or Enterprise Search, everything employees need to access for development, continuous learning and collaboration is quickly accessible from one intuitive place. The Core Platform connects people to the information and resources they need to explore growth opportunities, identify and resolve skills gaps, and prepare for career progression, all within the context of a robust talent profile that highlights performance, goals and accomplishments to easily identify new development and learning needs.
Your Workforce Needs to be Engaged.
Enable your people to elevate their skills
and connect with peers.
Organizations need to make sure every employee is operating to their full potential at all times. With SumTotal's Gamification capabilities employees can earn points for completing actions within the system – like finishing a learning activity or updating goals, while leaderboards provides visibility into how employees and teams compare to others. Badges can also be earned upon completing a set of accomplishments. SumTotal supports 3rd party Social Integration where organizations can "Bring Your Own Social (BYOS) – employees and managers can post updates publically or to groups, monitor social feedback from the new My Feed widget, and send private messages to users – improving employee performance and fostering collaboration.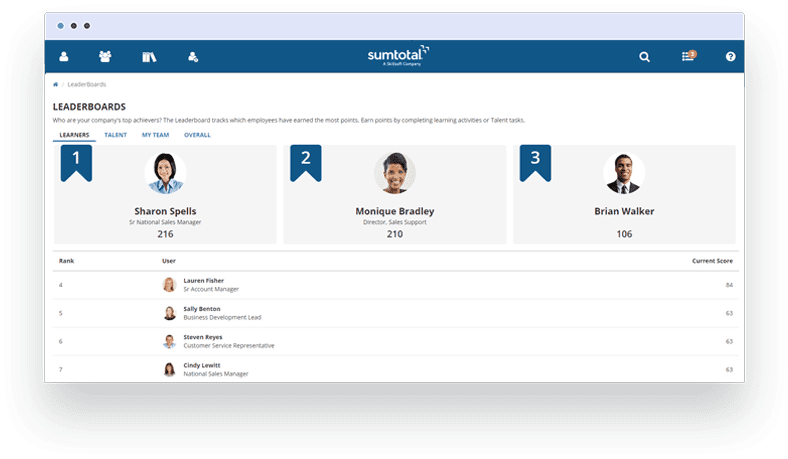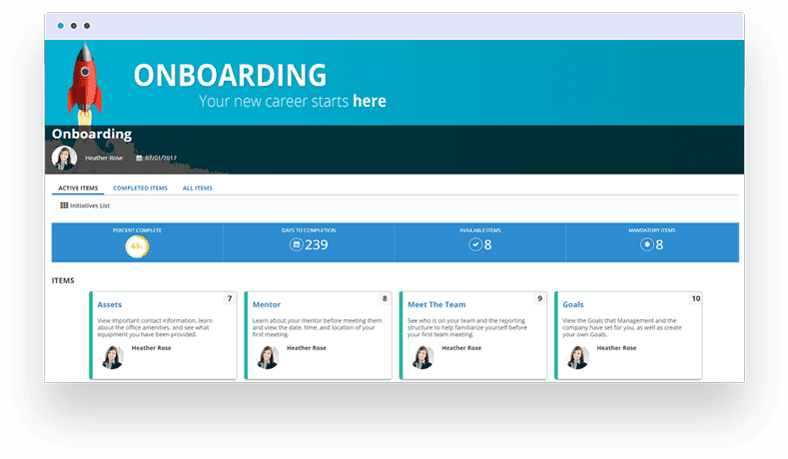 You Work Hard to Get Top Talent in the Door. Engage, Equip and Empower Them for Success.
You only get one chance to make a first impression, and the lack of an effective onboarding process can result in unproductive employees or employees leaving your organization quickly. In a recent survey done by the Human Capital Institute, 20% of employee turnover happens within the first 45 days of employment.
SumTotal's Onboarding solution engages new hires in a meaningful way by providing employees a comprehensive and unified onboarding experience that connects managers, teams and mentors to new employees, immerses new hires into the company culture, shows individual and company goals, links recommended learning and provides pre-boarding and day-one resources therefore accelerating time to performance and increasing retention.
Arm Managers with the Tools to be Effective
Managers are one of the top reasons people are leaving their jobs. That is because most managers today lack the skills needed to manage their teams. SumTotal enables managers to optimize their potential by surfacing critical team insight on a single dashboard. As the trend continues toward continuous development and feedback, SumTotal equips managers with visibility into team strengths and gaps and easy access to key actions for direct reports to effectively coach their employees.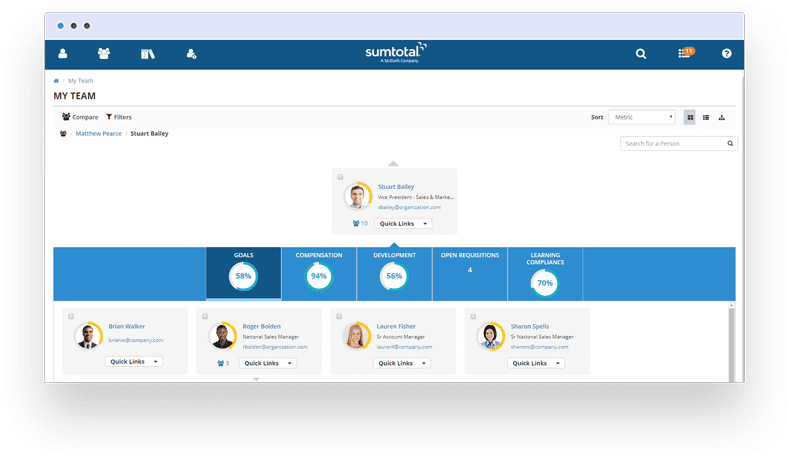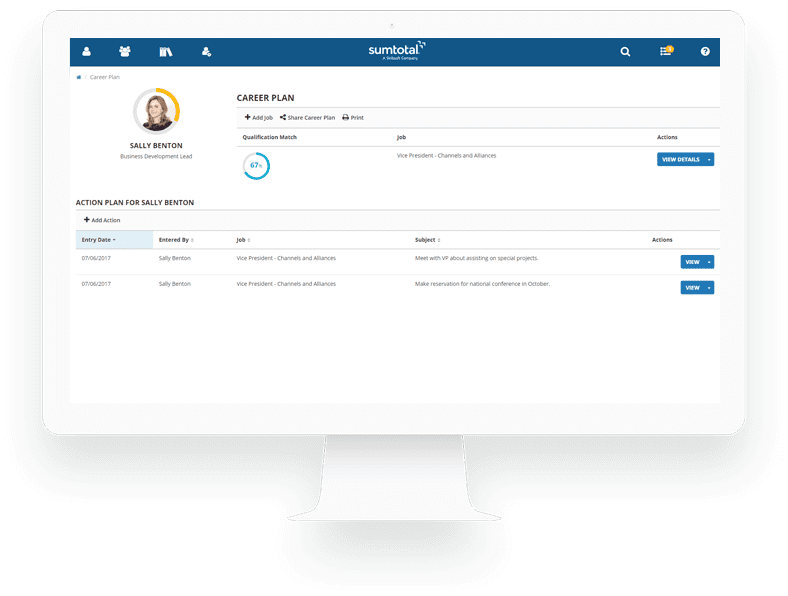 Create a Path for Career Mobility That Helps Engage and Retain Talent
When employees see their career path, they are more likely to stay with your organization. SumTotal enables employees to explore their fit for current and desired jobs by identifying skills, learning and behavior gaps and serving up the precise learning needed to resolve those gaps. SumTotal uses machine intellengce to create career path recommendations that make suggestions based on traditional career paths and actual career path data that is continually mined from peers and predecessors career progression.
Empower Employees to Map their Career Path
SumTotal's Enterprise Search facilitates the job search by enabling employees to search for and find jobs based on their competencies, skills and resume. With one click, employees can explore their fit or gaps for a position and view the specific job details— fostering talent agility within the organization.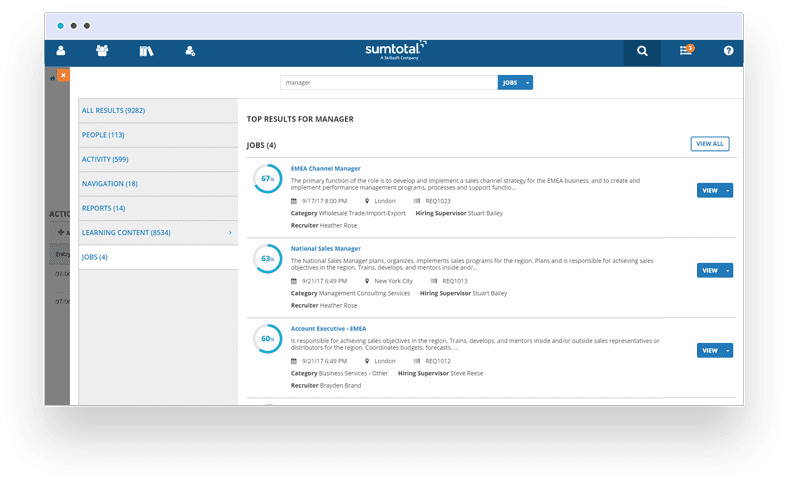 Transform Data into Meaningful Insight
with Advanced Reporting and Analytics
Equip business and functional leaders with the insight they need to make informed strategic business
decisions with SumTotal Advanced Reporting and Analytics.
Deliver real-time insight
Deliver real-time insight to users based on their roles and data security, with actionable information from across the suite in one convenient place.
Drive visibility and accessibility
with automated report distribution to proactively deliver information to business leaders and empower swift decision-making.
Visualizations that makes it easy to consume
and interpret large amounts of data, delivered in a concise and customizable format – including the ability to create web-based charts with a simple drag-and-drop and intuitive metrics.
Analyze enterprise-wide data with SumTotal Analytics
eliminating silos between functional groups (sales, operations, finance, HR) and business units to deliver critical insight around talent processes, patterns and the historic influence on performance to highlight the initiatives that will bring the greatest improvement.