dominKnow Learning Systems
"SumTotal does an amazing job providing their customers with integrated HR solutions that improve employee performance. We're very proud to have been an integral part of their offering for well over a decade — providing our full featured cloud-based collaborative authoring solution for learning content development."
– Paul Schneider
SVP Business Development, dominKnow Learning Systems.
Products & Services: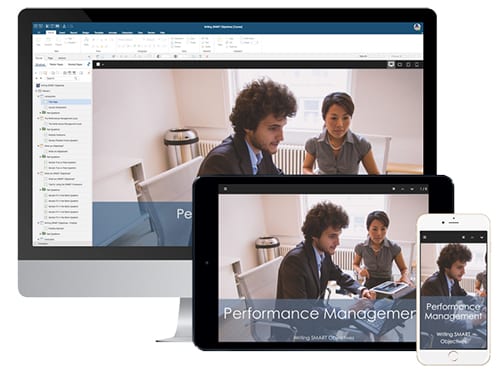 The dominKnow Platform is a content authoring and management solution designed from the ground up to fully support an organization's learning content strategy — with built-in tools and processes to ensure the right content gets to the right people at the right time.
With the dominKnow Platform organizations can collaboratively gather, create, review, share, reuse, and deliver content that can be used to help learners at multiple times of need — from formal learning through to application on the job. The platform supports the creation and delivery of single-source, responsive and adaptive, multi-purpose content that is easily monitored and measured — so organizations can see who is using what content, and how effective the learning interaction has been.
Author Anything, Deliver Anywhere
The dominKnow Platform has three authoring modes (Flow, Claro and Capture) to help teams create better learning opportunities throughout their organization. All three modes allow team members to work together in real-time, share content across any project, and quickly bring in subject matter experts for content review — no matter where they are located.
Responsive authoring: Flow outputs truly responsive and adaptive content so authors don't have to worry about specific devices or multiple versions of the same content.
Fixed layout eLearning: Claro content is designed for a fixed layout (slides based), but is HTML-5 based and scalable for viewing on laptops and desktop computers as well as mobile devices.
Software simulations: Capture is a cross-platform recorder for creating software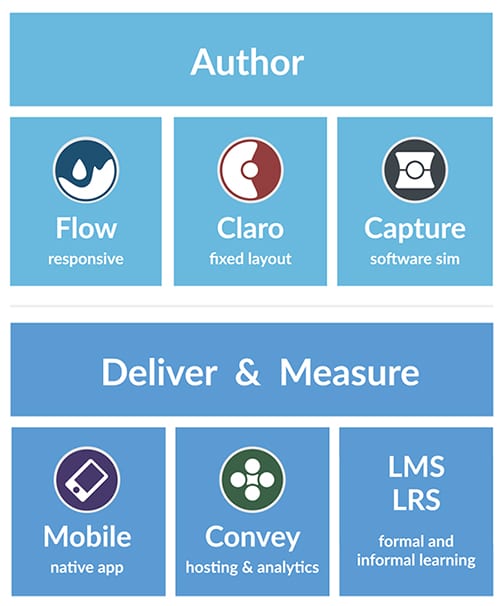 simulations for use as stand-alone mini courses or within a full training course.
The dominKnow Platform outputs HTML5 content that is WCAG 2.0 Level AA and WAI-ARIA compliant and publishes to SCORM, AICC, xAPI (TinCan) and PENS standards. Content is ready for delivery from virtually any location — be it the web, an LMS, the desktop, SumTotal's mobile app, or in document formats.
With the dominKnow Platform, organizations get the best of both worlds — the power of a cloud-based Learning Content Management System (LCMS) for managing and delivering large amounts of content, with the rapid, easy-to-use authoring and publishing experience desktop users have come to depend on. The dominKnow Platform can be deployed on its own or as part of larger system. Its open protocol, standards-based approach means easy integration with LMS or LRS solutions and ensures future-proof capabilities.
Award Winning
Industry experts cite dominKnow's elearning products as the best in class year after year. dominKnow has won gold in Brandon Hall's prestigious Excellence in Technology awards 4 times. In addition, TrainingIndustry.com has honored dominKnow a "Top Authoring Tool Company" for the past five years, eLearning 24/7 has rated its authoring tool #1 four times, and in the most recent edition of the Best of Elearning! awards they walked away with the Top Learning Content Management System for the second year in a row, and an Award of Excellence for Mobile Authoring.
Industries served or specialized in: dominKnow products are enjoyed around the world by organizations both large and small — in all forms of industry and government.

"dominKnow's centralized platform and workflow tools help us maximize our resources and save time and money. For example, we currently have 800 course translations underway and we estimate a 50% reduction in translation costs with the dominKnow platform compared to our previous methods and tools."
Susan Murphy, Director of Professional Learning Services, UL EHS Sustainability

"The dominKnow platform has streamlined our review and feedback process immensely. Today everything is easily tracked and updated across time-zones and countries. With dominKnow, SOA saves more than 50% of the time we used to spend in the review process."
Leslie Fausher, e-Learning Manager, Society of Actuaries

"We chose dominKnow as our development tool because its cloud-based SaaS system allows for easy collaboration and sharing of media across multiple languages and modules. We're now looking to expand our use of the dominKnow platform."
Megan Torrance, Chief Energy Officer, TorranceLearning

"dominKnow has redefined cloud-based learning platforms."
Michael Rochelle, Chief Strategy Officer, Brandon Hall Group

"Just saw the new dominKnow platform and WOW… definitely on my top tier list."
Craig Weiss, Industry analyst, eLearning 24/7 blog