Experience SumTotal at the
2019 HR Technology Conference
OCTOBER 1 – 3 | The Venetian, Las Vegas | BOOTH 1510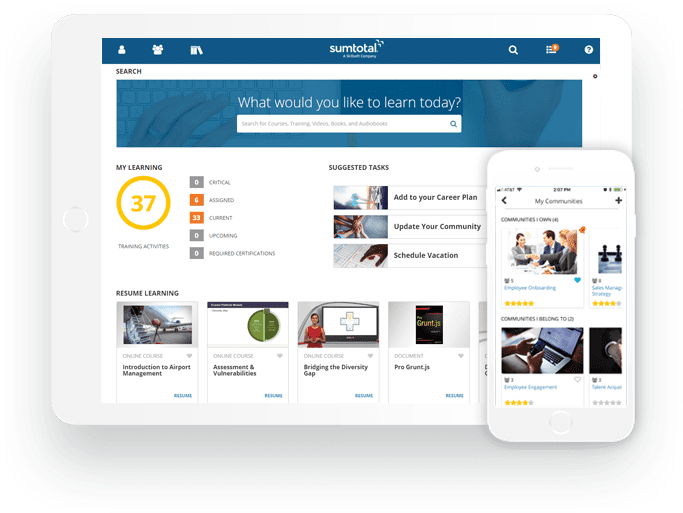 Develop Your Talent
SumTotal delivers learning centered Talent Development
SumTotal Talent Development gives you the combined functionality of our Learning Management, Onboarding and Talent Management solutions – which includes Performance and Goals Management, Continuous Feedback, Succession Planning, 360 Feedback and Compensation Management. With one solution, you have access to all the modules that enable your organization to best meet their talent development objectives. Whether your processes are simple or complex, SumTotal easily configures to deliver learning-centered talent development to your workforce.
Book time now to meet with us in Vegas and when you visit our booth we will donate $5 to Special Olympics on your behalf!
We'll also have a unique sweet treat photo opportunity that we are sure you won't want to miss!
Get Involved Onsite
Informative Presentations and Sessions
From SumTotal product and domain experts, our executive team, industry-leading CHROs, CLOs and other thought leaders.
Customer insights
Real world stories of how our customers and partners are creating a new engagement strategy for all generations.
Looking ahead
Find out from the experts what the future of modern employee engagement looks like.
But Wait, There's More!
Peer networking
Opportunities for peer networking, knowledge sharing and benchmarking.
Entertainment
It's not all work – you also get to party! Click on the Sugarcane banner below to join us!
Product Demos and Innovations
See the power of the SumTotal suite in action, including the latest market-leading innovations and enhancements.
Find Us – Booth 1510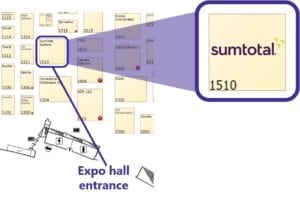 About HR Tech
The HR Technology Conference is an energetic, interactive event that gives you a firsthand look at the newest products and solutions and the opportunity to learn from and network with the leading industry experts. Helping forward-looking professionals rethink HR and leverage technology to exceed employee expectations and succeed in business is what the HR Tech Conference is all about.
We hope to see you there!
Expo Hours
October 1: 5:00 p.m. – 7:00 p.m.
October 2: 10:00 a.m. – 5:30 p.m.
October 3: 10:00 a.m. – 4:00 p.m.
If you have any immediate needs, please call us at 866-757-3177.