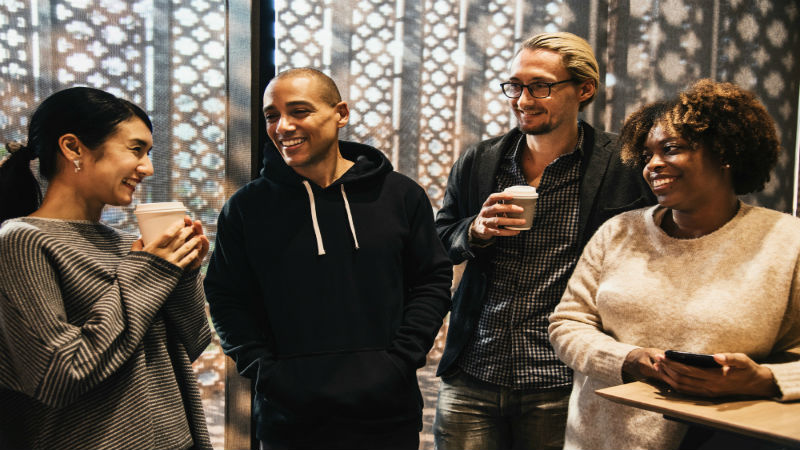 A few years back I attended a panel presentation featuring many prominent business executives discussing diversity and inclusion (D&I) to an audience of HR leaders. At the time I was impressed how at each of the organizations involved, D&I was successfully incorporated into the overall HR strategy.
Fast forward to today where organizations around the world are waking up to the fact that workforce D&I is not an HR initiative, it is an intelligent business strategy, a strategy that must permeate throughout the organization, led and supported from the top. HR's role now is to drive execution.
Diversity and inclusion (D&I) is good for business
A recent BCG study found that companies reporting above average diversity on their management teams also reported innovation revenue that was 19% points higher than those with less diverse teams. The most significant gains arising from changing the makeup of leadership cohorts regarding national origin, the range of industry backgrounds, gender and career paths.
Need more convincing?
Cloverpop conducted comprehensive research on inclusive decision making and its effects. The results demonstrate the benefits of including more diverse employees in business decisions at all levels:
Inclusive teams make better business decisions up to 87% of the time
Teams that follow an inclusive process make decisions 2X faster with 1/2 the meetings
Decisions made and executed by diverse teams deliver 60% better results
Compared to individual decision makers, all-male teams make better business decisions 58% of the time, while gender diverse teams do so 73% of the time
The bottom line according to Erik Larson, CEO and founder of Cloverpop, is "research found that decision making effectiveness is 95% correlated with financial performance."
In other words, D&I lifts everyone's game.
However, despite all the overwhelming evidence that's available, many managers and employees fail to make the connection between these research findings and their day-to-day jobs. Taking a look at two case studies discussed during that panel I mentioned earlier, we can gain insight into some real-world execution of workforce D&I strategy and its results.
Case study one: rising healthcare costs
A major Midwest healthcare organization that manages multiple hospital facilities had conducted a thorough analysis of their costs in their acute care facilities and emergency rooms. What they found was staggering. More than one in five patients discharged from their hospitals were re-admitted within 30 days. The cost to the hospital and Medicare was in the millions of dollars annually.
After a meaningful review, the healthcare organization came up with a multi-step plan to address the readmission problem. One of the central tenants of the solution focused on the makeup of the clinical staff at each hospital. Among the insights gleaned from their reviews was that the communities that each hospital served were becoming increasingly diverse. As a result, the number of patients admitted that either spoke English as a second language or no English at all had increased dramatically. What hadn't changed was the number of clinical staff who reflected the patient population or had the necessary language skills to communicate appropriately with patients. Think of the fallout from a patient who only speaks Portuguese receiving complex home-care instructions in English. Their readmittance is highly likely since the patient does not understand or can't follow through on their care plan. The result was that the organization needed to overhaul its recruiting, training and patient processing procedures. Once this happened, the organization could execute a talent strategy that helped to significantly reduce costs within their hospital network while increasing overall patient satisfaction – real strategy with bottom-line results.
Case Study two: remain or leave?
A Fortune Global 100 organization was struggling to determine the best option to address the business strategy for one of their retail business segments. The brick & mortar business dealt in consumer medical products and pharmacy distribution. The firm was at a crossroads due to a massive demographic shift happening with their workforce. Its workforce was primarily white male baby boomers. Based on its workforce analysis projections, a significant percentage of the staff planned to retire over the next 5-7 years.
While the solution may appear simple – hire new staff to fill the vacant roles, there was another factor impacting the retail business. Similar to the healthcare example, the demographics of its customer base had changed dramatically. Its workforce, to succeed in the new retail environment, needed to reflect again the diversity of the communities where they operated. Now the organization was faced with a choice. Do they undertake the talent acquisition strategies and outreach programs to support a diverse consumer base or, do they leave the retail space altogether, sell off this division and cash out on this business line?  The business opted to stay, and a team of executives led the way in driving major D&I initiatives that spanned all areas of their retail business. From talent acquisition strategies, community outreach and job fairs, to supporting local education initiatives to drive more awareness and future potential employees in their communities, the company implemented a policy that embraced diversity for the business value it brought.
HR tools to execute and measure successful D&I strategies
Incorporating a more diverse and inclusive approach to talent is a proven business strategy. HR, supported by management, plays a vital role in ensuring the success of any D&I initiatives. No technology or product solution can "make" your organization diverse and inclusive. There are tools that help HR professionals execute well-articulated and supported D&I strategies and, equally important, help measure the progress your company is making.
SumTotal's learning and talent development solutions give HR the ability to:
Utilize SumTotal Learning Management to provide all employees with unconscious bias training,  access to mandatory compliance training around legal requirements and help develop leaders who prioritize and understand how to assemble, encourage and manage diverse teams.
Use SumTotal Talent Acquisition to attract, hire and retain employees with diverse backgrounds to avoid "like for like" hiring.
Take advantage of SumTotal's social capabilities to enable groups and individuals to come together for special initiatives like mentorship, employee resources groups to help all employees feel more connected to each other and the organization.
Regardless of where your organization is in their drive to build a diverse and inclusive workplace, D&I is sound business and HR strategy. Reach out and ask how SumTotal can help you execute to drive positive business results.