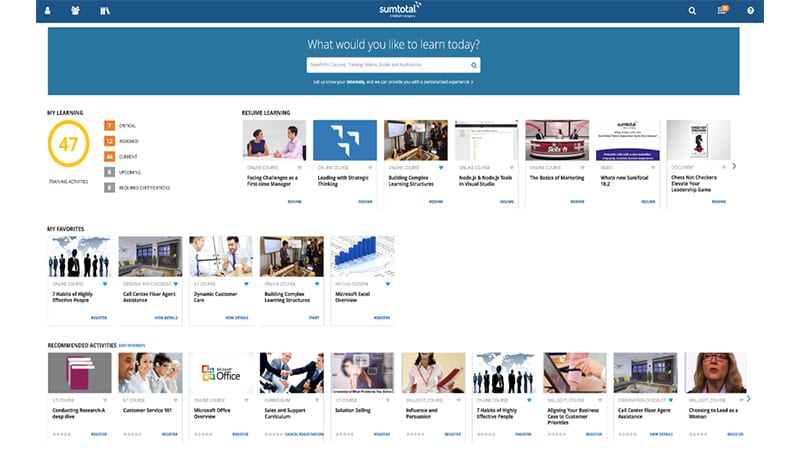 For those of us of a particular vintage, "have it your way" was a call to individuality, a large corporation's message that spoke of personalization and the freedom to select what we each liked rather than settling for a predetermined litany of ingredients which we may or may not wish to have on our burger.
Nowadays, thanks to technology and innovation, consumers assume a certain level of having it their own way – from personal recommendations when shopping, (thanks Amazon) to Spotify's bespoke playlists (love these) and of course Netflix, the entertainment giant that seems to know my movie tastes better than I do.
Such is the omniscience of personalization that it wasn't surprising that people began demanding a learning experience tailored to their particular needs or requirements.  We responded to the change in expectations, and in recent years our solutions have enabled learners to choose what they learn, when and how.
And we continue to do so with SumTotal 18.2.  Here are the highlights of what you can now expect!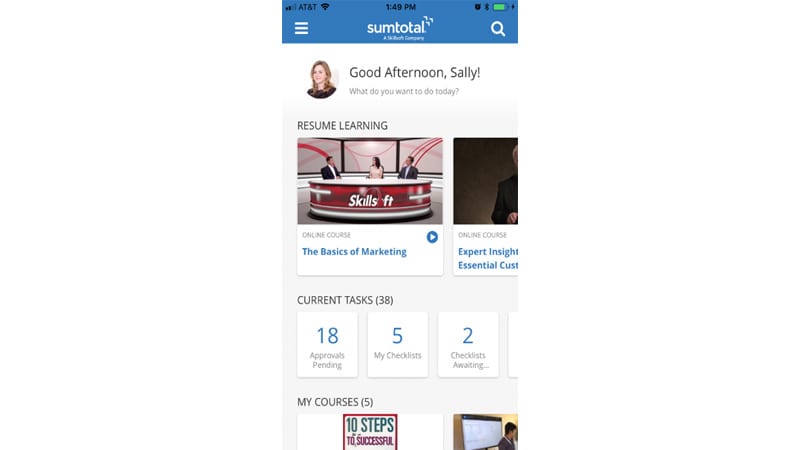 Personalized learning experience
The new release delivers precisely what users are looking for – Netflix™ style, consumer-led design, with an experience personalized to the individual's learning and development requirements. This means users are shown the courses and recommendations that match their learning needs.  We spent a lot of time researching user experience to ensure that this is a genuinely consumer-led design.
Reimagined social capabilities
We rebuilt our social platform from the ground up. We know from talking to our customers, they need to enable informal communication as part of the LMS. Our new social platform allows customers to build communities, post blogs, start and respond to discussions, and share files. Of course, if you prefer to bring your own social (BYOS) approach, SumTotal integrates with market-leading social platforms. An integration Yammer™ is already available and integrations with Slack™ and Teams™ are in development.
More extended enterprise
SumTotal 18.2 extends the reach of your LMS with a rich set of new extended enterprise marketing tools, including email marketing campaign support to grow revenue by targeting your customer base to announce new offerings and upsell new learning.
A Brandon Hall Group 2017 study reported on the revenue and customer service gains from extended enterprise learning. The study found that "learning for non-employees and remote and distributed employees now accounts for more than half of learning, and 40% of organizations surveyed are charging for this content, with almost one-third of organizations recouping more than half of their total LMS costs." The study also reveals that 56% of companies believe their extended enterprise learning efforts are effective or very effective.
These results got us thinking. How can we help our customers further capitalize on this potential? With this release, you will have more flexibility than ever in how you package and bundle your content to create compelling learning bundles and channels. In addition, we're offering flexibility in cost, currency, duration, cancellation methods, policies and bundles.
Enhanced Skillsoft content experience
For those customers who are lucky enough to have Skillsoft and SumTotal (better together!) we have further improved the learner experience. Percipio Experience Services (PES), formerly known as Percipio Content Services, gives learners access to channel curation and multiple modalities, including courses, videos, and books. PES also provides dynamic content curation, competency alignment, and value-based reporting – all to enhance the Skillsoft experience!
Mobile first
As a development team, we ensure our mobile-first design philosophy is part of our DNA. The new learner experience and our social platform are both smartphone optimized. The mobile experience is the best on the market and we are incredibly proud of the work we have done to ensure mobile is at the core of what we do. We do allow choice and flexibility to our mobile consumers and hence our mobile app is always made available in iOS, Android and Windows at the same time.
SumTotal 18.2 goes on general release today. Check out our launch video here.
No small feat, but one I'm sure you will appreciate "having it your way."