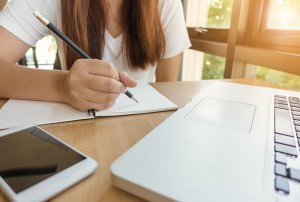 According to David Wilson, CEO of Fosway Group, "Video learning is exploding, with around 80% of organizations increasing their demand this year alone."
This figure is hardly surprising given the sheer popularity of video. 55% of people watch videos online every day and video currently accounts for around 73% of online traffic, with expectations that by 2021, video will account for 82% of all IP traffic. On YouTube alone, over a billion hours of clips are watched per day, which means as the leading provider of talent management solutions, this trend is just too important to ignore.
So, we didn't.
One of the most recent enhancements to our Learn, Talent and Workforce Management solutions that sit within our Talent Expansion Suite, is support for the Experience API (xAPI), which enables customer tracking, reporting and analytics for learning experiences that occur outside of the LMS, thereby offering a truly holistic and unlimited learning opportunity.
For now, YouTube is the offered connection.
Why YouTube?
We selected YouTube because it offers the world's largest library of free video content with some of the most well-known publishers/authors. YouTube also offers an API that allows external systems, like SumTotal, to embed the player into our system so we could track all the interactions and post back to the Learning Record Store (LRS). This made it the best integration option to make available to customers who are just beginning to investigate how to leverage xAPI (as the content is free), while also making it valuable to the learners who are thirsting for access to videos to meet their training objectives.
How will it work?
Any YouTube video can be setup in SumTotal Learn and made available to learners. Plus, companies will be able to track user interactions, meaning that time spent on YouTube is considered part of the development process and not something separate and therefore not recorded.
What about NSFW material?
While YouTube has tens of thousands of business-oriented videos, we all know there is also perhaps an even larger repository of videos that are most definitively not appropriate for the workplace. With this in mind, it is anticipated that individual company Training Admins will curate what YouTube content can be accessed, and ideally, they would also ensure that any new content made available for consumption not only aligns with their corporate & training goals, but also is blended with activities in SumTotal Learn that map to the chosen videos.
Will I be able to track what YouTube content is being accessed?
Yes. For now, though only the interactions with selected YouTube videos will be tracked in SumTotal.
xAPI also provides a ton of insight into how the learner is interacting with the content.
Now you will have:
The ability to track how someone interacts with a video – did they skip ahead? Replay a part? Pause the video for an extended period of time while the player was still loaded?
Be able to tell how users finding content of interest?  What did the user search for when finding and starting the content?
Follow the reaction to their search results – did they find the content valuable or was it abandoned? Did the user close the content before finishing and go back to the search results?
What does all this mean for the learner?
One of the biggest and most obvious benefits is that now learners are no longer limited to just the resources available on their learning management system (LMS). Now they will have almost unlimited access to other resources, to pick and choose the modality- video, book, course, that best serves their needs.
It also means training departments can assign and make new training readily available to their users without having to go through the lengthy and costly process of developing traditional content.  Additionally, the data collected through the LRS can provide the crucial analytical analysis needed to improve the quality of the training provided, but now based on an understanding of how it is currently used by their learners.
Will other third-party content be available in the future?
Yes. Overtime, we plan to offer additional sites and content to SumTotal leveraging xAPI.
With more and more content providers gravitating towards standardization of xAPIs embedded within their content, the experience of the modern learner can be brought to the SumTotal LMS/LRS.
Virtual and augmented reality enabled contents leveraging xAPIs will be the future of learning.