"Exceptional ROI is the norm, not the exception"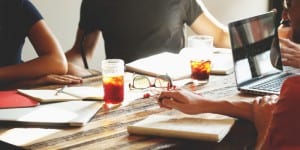 I was in line the other morning waiting for my usual—double shot Americano with room for cream—when I overheard a conversation between the two young women who were directly behind me.
And no, it wasn't a juicy conversation about personal matters…it was a work matter. One of them, not sure which one, as it would have been impolite to keep turning around—was under a lot of pressure from her boss to select a new HCM system for their organization. Her friend was trying to give her advice. I emphasize trying because in truth, not a lot of what she said either made sense or was even accurate. Back in the day, this would have been point when I would have handed her my card. Today we write a blog about it. SO, this is for you White Chocolate Mocha and Chai Tea.
Choosing the technology for human capital management is a big deal. There are a ton of vendors out there and each promises the world. In truth, few deliver and no one wants to be the person who recommended a particular system only for it to fail to deliver on its promises.
Let's boil this dilemma down and solve it with three simple steps.
Step 1 Identify the wish list
Compile a list of your requirements: what you want/need/would like to see done with the new HCM. Analyze your talent, learning, and workforce management strategies. Assume that you don't need to live without anything on your wish list, because chances are, your requirements are more attainable than you might think. We know that you're hearing from other vendors that you may need a fully customized (read: costly) solution or try to squeeze your organization into a one-size-fits-all box. If that happens to you, see the red flag and find a vendor who doesn't shy away from complex requirements. The cloud is fantastic, but in some cases, on-premise may be exactly what you need. The point is not to sell yourself short.
We're hosting a webinar on vetting requirements—specifically for Workforce Management—on April 18. Check it out and register: Four Things To Do Before Signing Your WFM Provider Contract.  
Step 2 See the whole picture
To begin you might only need a small number of modules… to do things such as solving your employee retention problem, doing a better job at onboarding, or even optimizing self-service with shift trading. I caution you not to fall into the trap of thinking short-term and focusing on only your immediate need. We see many prospective customers come running to us as needs emerge and they're overwhelmed with disparate HR systems. Not all HCMs are created equal, and some have the capability to expand as needed without additional costs or customization.
It's also important to fully realize your potential ROI from your HCM investment. In a recent Nucleus Research report, Four HCM Mistakes to Avoid, it discusses that decision-makers often overlook that "modern technology for HCM costs less to implement and operate," thereby yielding "major gains in productivity…[and] a significant ROI."
Step 3 Set the Right time
The point-of-need for upgrading or deploying a new HCM is before there's a problem. If you're starting to see that your system is becoming unworkable—start comparing vendors now. The Nucleus report also states that many SMBs in particular wait too long. Don't do that! Plus, the sooner you get started, the sooner you will experience the ROI which will simply increase as time passes and your company grows.
To my colleagues in the coffee shop and everywhere else, I hope this helps.
For information about our HCM and what it can do for you, schedule a demo. For additional reading, check out the research note that I referenced above "Four HCM Mistakes to Avoid."