As an HR or learning professional, you're faced with catering to the needs of a workforce that is more diverse than ever before.  While diversity and inclusion are proven to bring tremendous benefits to building effective business strategy, delivering an exceptional customer experience and driving real innovation it presents a mounting challenge when it comes to understanding, motivating and rewarding people in meaningful ways. 
No doubt, millennials and their growing presence in the workforce are discussed all around us. According to U.S. Census data, in 2015 millenials became the largest share of the workforce. [1]
But, this also leaves a large population of the workforce who are NOT millennials, creating quite a conundrum for HR professionals.  Regardless of how many generations and perspectives you have across your workforce (and, hopefully it's a lot) today's fast-moving, app-happy millennials are reshaping the expectations we all have for work – ushering HR professionals and the broader workforce into a new way to work.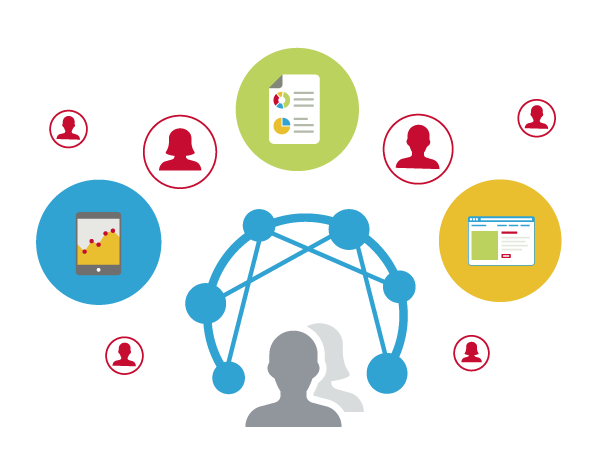 Look at how unified our consumer applications have become.  From one place on my phone or tablet, I can post a picture to multiple social apps without ever opening any of them.  I can share and collaborate in new ways with those around me without ever opening email or text. In today's new way of work, we should expect no less from our business applications. Long gone are the days of disparate, siloed applications – simply put, they're ineffective, cumbersome and you will find yourself on the uphill climb of getting your users to adopt them.
This new way of work is perhaps most apparent in today's approach to managing talent. Is it any wonder companies find themselves enforcing compliance when it comes to performance reviews and goal setting, or pushing learning adoption on their employees? Many of today's solutions don't connect the dots between these siloed processes – leaving a lot on the table. When learning is pushed, rigid and not aligned it brings very little value to your end user other than 'checking a box'. The same can be said for a goal setting or performance process that leaves your users wondering 'what do I do next?' Now, imagine a world where the most relevant and personalized learning and content is delivered (before you ever ask for it) alongside critical talent processes – like goal setting and performance – where it can truly help each employees 'move the needle'. And, like a number of fitness apps (you runners, I'm looking at you) I have anytime access to my progress and how my efforts are having an impact – or, even course correcting for a new goal or aspiration. This is the new way of work – for all generations.
Expect no less from your business applications than you do from your consumer applications. The line is fading and will soon be gone.  Here are just a few capabilities you should now expect as you look to today's holistic talent solutions.
Make it Seamless.  Don't make me figure out what system to log into.  Let me simply take action from insight, tasks or alerts.  When my manager cascades down a team goal, don't make me then log into the LMS and scour the catalog of courses and content for my best interpretation of what might prepare me to deliver on that goal – most likely, Will abandon the process altogether. You can choose to train, monitor and assess your people, or you can bring it all together and develop the overall capabilities of your workforce.
Make it Personal. I won't reach that goal in the same way as my other team members, because I bring a different set of existing skills, experiences and interests to the table.  Today's approach to development recognizes this and is driving towards being increasingly individualized. However, HR and Learning professionals can't do this alone – we need to leverage solutions to enable the delivery of personalized and prescriptive learning and development actions. I would find no value in apps like Pinterest or Instagram if I was delivered the same content every other person with similar demographics to me sees. What really engages the user (I.e. Sucks you into the depths of Instagram photos and Pinterest boards where time seemingly stands still), is how personal the experience is for each and every person. Our business applications can, and should, create this individualized and adaptable experience too.
Make it Simple. Did you have to read all about Spotify or Facebook before you started using them? Nope, you downloaded, explored and were ready to share your life with the world.  Why shouldn't our business applications deliver the same intuitive, unencumbered – and even fun – experience? Point, click (or, touch) and grow.
Comment below and let us know how your workplace is being influenced and evolving.
---
[1] http://www.pewresearch.org/fact-tank/2015/05/11/millennials-surpass-gen-xers-as-the-largest-generation-in-u-s-labor-force/