Last week I had the refreshing opportunity to spend three days chatting with attendees, thought leaders and colleagues about training development trends and challenges at ASTD (now ATD!) in Washington, D.C.
After having so many great conversations, I couldn't help but be reminded of TotalConnection and the invaluable opportunity attendees will have to learn, network and share ideas. Then I realized TotalConnection is only 5 months away.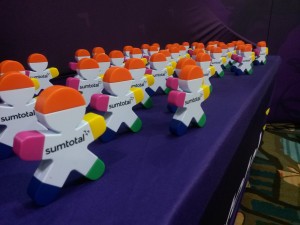 Can you believe it?
Over the past few months Stacy and I have been blogging about all the benefits of attending TotalConnection such as…
Taking advantage of all the fun things to do in sunny Miami Beach.
Having the opportunity to connect with SumTotal partners to learn about their solutions to enhance your technology.
And, of course, hearing from world-renowned thought leaders and industry luminaries who will cover the latest trends in HR technology and what they mean to your business objectives.
But to me, the biggest benefit of attending TotalConnection is by far the networking opportunities.
Having the chance to build your professional network and chat with like-minded peers about the wide spectrum of challenges you face is an opportunity that doesn't come around often enough.
Networking at events isn't just about rubbing elbows and swapping business cards. It's about connecting with someone in the same industry working on the same software platform and having the same issues.
How cool is that? TotalConnection is a ready-made sounding board of your peers ready to brainstorm new ideas, find solutions and understand your point of view! To me, that is what user conferences are all about.
If you want to come home from TotalConnection, or any other conference, (but we really hope it is TotalConnection!) with more than tchotchkes and a sunburn, keep the following in mind…
A new view of the world – The conversations at conferences are rich with advice about shared challenges and suggestions of best practices. You get the chance to step into the shoes of your counterparts in other organizations and ask questions and learn from their experiences. You come back with a connection you can reach out to for help and an arsenal of information that you can apply to your organization organizational challenges.
The chance to meet your hero – Conferences agendas are stacked with industry thought leaders and respected business leaders. It's not every day that you get the chance to sit in on keynotes, roundtables and working sessions covering emerging trends and challenges in talent and learning management. (I can't wait to announce the fantastic keynotes and panels we have planned for TotalConnection!)
Build your personal brand – One of the most important things you can do for your career is build a personal brand. Conferences are the perfect setting to make new connections, establish yourself as an influencer and expand your professional reach.
There are a lot of great things happening at TotalConnection – from the networking opportunities, to the sessions, to the fabulous customer appreciation party. We don't want you to just come and enjoy all the amenities.
Bring a buddy!
Take advantage of the TotalConnection 2014 Colleague Discount! When one person from your company registers for TotalConnection 2014 at full price, you will receive $100 off all other registrations in your group using the code TC14Colleague.*
Have a great weekend and see you at TotalConnection!
*No limit on number of registrants. Discount offer good through June 30, 2014.