What do you get when you put three HR thought leaders of super innovative companies together in a Google hangout to discuss how to unleash the potential of their employees? You walk away with insightful and practical advice on how to develop the face of your organization – frontline employees.
Frontline employees don't sit at desks or in front of computers. They're out there servicing customers, selling products and building our brands. Given their limited access to formal training, delivering learning and development to them can be difficult. But with the right strategy, internal buy in and technology, organizations can offer the training and development these employees deserve.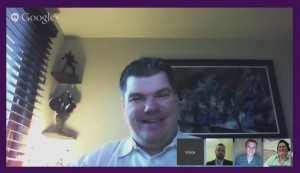 Two innovative learning and development leaders from Avanade and McAfee got together last week on a virtual roundtable to discuss how their customer-focused organizations are creating dynamic, yet practical strategies to overcome these challenges.
Led by moderator Steven Parker, vice president of HR strategy and transformation at SumTotal, Ashley Graham, manager of global learning operations at McAfee, and Vince Pace, HR technologies director at Avanade, shared their successes in a lively discussion that tackled topics such as:
Incorporating technologies that are changing society, like social collaboration and gamification, into learning
Avoiding the pitfalls of a one-size-fits-all approach to development
Demonstrating how training investments are paying off in employee performance
Delivering learning that it is more accessible and seamless with work duties
Hear how McAfee and Avanade are addressing the unique needs of their frontline employees head on.  View the one-hour recording, and then join the discussion below by sharing your experiences and ideas.