The warm tropical sun heats up the sand slinking between my toes. A light breeze passes by as I sip a fruity drink and watch the waves crashing with the tide. It's the most beautiful day I've ever seen – and it's happening in just a few short months.
With all the cold and snowstorms, it's hard to imagine that this dream of mine will soon be reality. When I recently joined SumTotal and was invited to be part of TotalConnection, I jumped at the chance to be surrounded by amazing people amongst one of the most gorgeous landscapes in North America.
I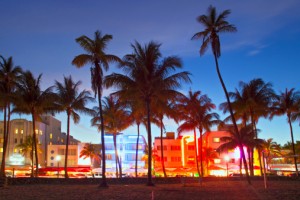 f you haven't heard by now, this year's Total Connection will be at the Eden Roc Hotel in Miami, Fla. So  not only do you get to enjoy the vibrant sights and sounds of south Florida, you get to be one of the first to see SumTotal's latest innovations in action.
TotalConnection 2014 is about you. It's designed to provide ideas and best practices that you can immediately implement and help you to meet your personal and organizational goals. In addition to the program's training and education, you will have opportunities to connect with your peers, exchange ideas and discover new perspectives. There is no place on Earth where you can get such comprehensive information from the industry's top experts in such a short amount of time!
I know the days may be long, and you'll want to unwind, so here are some of the top spots on my itinerary:
The Beach: Bill Baggs Cape Florida State Park
With a historic lighthouse and nature trails, this beach is the essence of this tropical paradise. Curl your toes around the sand as you waltz past the breezy palm trees and take in the ocean air.
The Margarita: Agave Garden from The Broken Shaker
A muddled red pepper with tequila, fresh lime and homemade agave syrup captures the spicy, yet refreshing, vibe of the city.  The flavors are infused by spices from their own garden and exotic ingredients from around the world.  The garden itself is a sight to be seen.
The Dinner: Grilled Parrillada from Casablanca Seafood Bar and Grill
A Latin meal filled with all the seafood you could dream of: shrimp, bay scallops, calamari, oysters, mussels, clams and fish fillet – all grilled to perfection.  This restaurant owns it's very own fish market, so you know that you're guaranteed authentic, fresh Miami seafood.
Now you know where to find me after TotalConnection 2014. I hope to see you out and enjoying the city as well. Join us at SumTotal's TotalConnection 2014! Don't forget your flip flops.